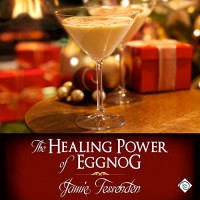 Reviewer: Sandra
Genre: M/M holiday
Review:
This was sweet, and I'm always a fan of Jamie Fessenden. With the audio version, the first POV switch from Will to Ryan threw me a bit, but after that initial confusion it was fine to go back and forth. I liked getting each of their perspectives since they were both unaware of the others situation at the beginning.
I believed their attraction as well as the development of a friendship, although I wish the kiss had happened on the 2nd or 3rd day. Day 1 seemed a little quick, but since it was just a kiss and an expression of interest I figured, sure, why not? But along the same lines, I was surprised to hear an "I love you" at all. It wasn't necessary. They developed a good connection and a nice HFN, no need to push it.
The tension with Will's family worked, and I liked seeing that play out as a secondary plot. The climax was a bit much, I don't think Will's dad had any reason to be quite so upset, but it allowed for a resolution of everyone's issues and worked well with the story.
I love short stories in audio version, and this was no exception. Good narration, and perfect for my morning commute!